ITEM CODE: LVP21-31WH
Regular price
Sale price
¥700 JPY
Unit price
per
Sale
Inquiry
A toggle switch plate as used by the P.F.S. design team, and designed to promote energy saving.

Each color also has two different finishes, a lustrous glossy finish and a painted matte finish.
The glossy SOFT RESIN stands out even on a tiled wall.
The matte HARD RESIN has a mellow look that blends easily with interiors.

This item is retail of just the plates. If you also need toggle switches please see here.
(You will need to purchase as many toggle switches as there are holes in the plate. E.g. three holes will require three switches)

You can choose from one, two or threes holes per plate.
Be aware that tightening the screws when attaching the switches too tightly may damage the plate.

We also offer TOGGLE SWITCH PLATES in a variety of other colors and with or without lettering on them.

[ WARNING ]
Please have a contractor attach the plates.
In order to prevent serious accidents or fire, when attaching the plate you must cut the breakers
and ensure that no power is being supplied to the site prior to performing the work.
You must use copper or copper clad wire.
Weight :
1 HOLE - 0.02kg
2 HOLES - 0.05kg
3 HOLES - 0.07kg
Share
日本語

P.F.S.のデザインチームも使用するトグルスイッチプレートの省エネ節電推奨用をつくりました。

同じ色で表面仕上げが2種類あり、つやのある光沢表面と、ペンキでぬったようなマット表面よりお選び頂けます。
光沢のあるSOFT RESINは、タイル壁にも映えます。
マットなHARD RESINは落ち着きがあり空間にとけ込みやすい質感です。

こちらはプレートのみの販売となりますので、トグルスイッチご利用の方はこちらをご覧ください。
(トグルスイッチはプレートの口数と同じ数量の購入が必要となります。例:3口ならば3個のスイッチ)
[ TOGGLE SWITCH のページへ ]

プレートは1~3口用をお選びいただけます。
スイッチを取り付けるネジを締めすぎると破損の恐れがありますのでご注意ください。

別色や文字なしのTOGGLE SWITCH PLATEもご用意しています。
[ 商品一覧のページへ ]

【警告】
取り付けは施工業者により取り行ってください。
重大な事故や火事を起こす可能性があるため、取り付けの際は必ずブレーカーを落とし、
電気が来ていないことを確認して行ってください。
【注意】
配線には銅線、または銅被覆のモノ以外は使用しないでください。
Size :
1口 - W70 D5.6 H114 mm
2口 - W115 D5.6 H114 mm
3口 - W162 D5.6 H114 mm
※文字のないプレートと同じサイズです。

Material : Plastic

[ → サイズ及び、スイッチ種類について詳細拡大]

文字あり、ホワイトのスイッチプレートの商品ページです。※スイッチ別売
weight : 700g
Color: White
Material: Plastic
SIZE:

1 HOLE - W70 D5.6 H114 mm
2 HOLES - W115 D5.6 H114 mm
3 HOLES - W162 D5.6 H114 mm

For wholesale distributor
View full details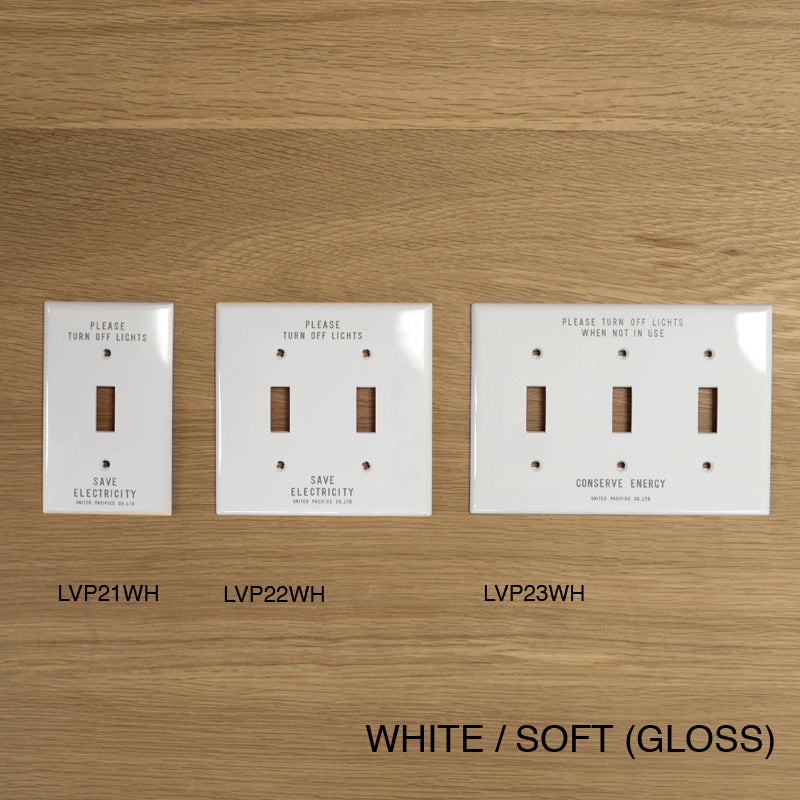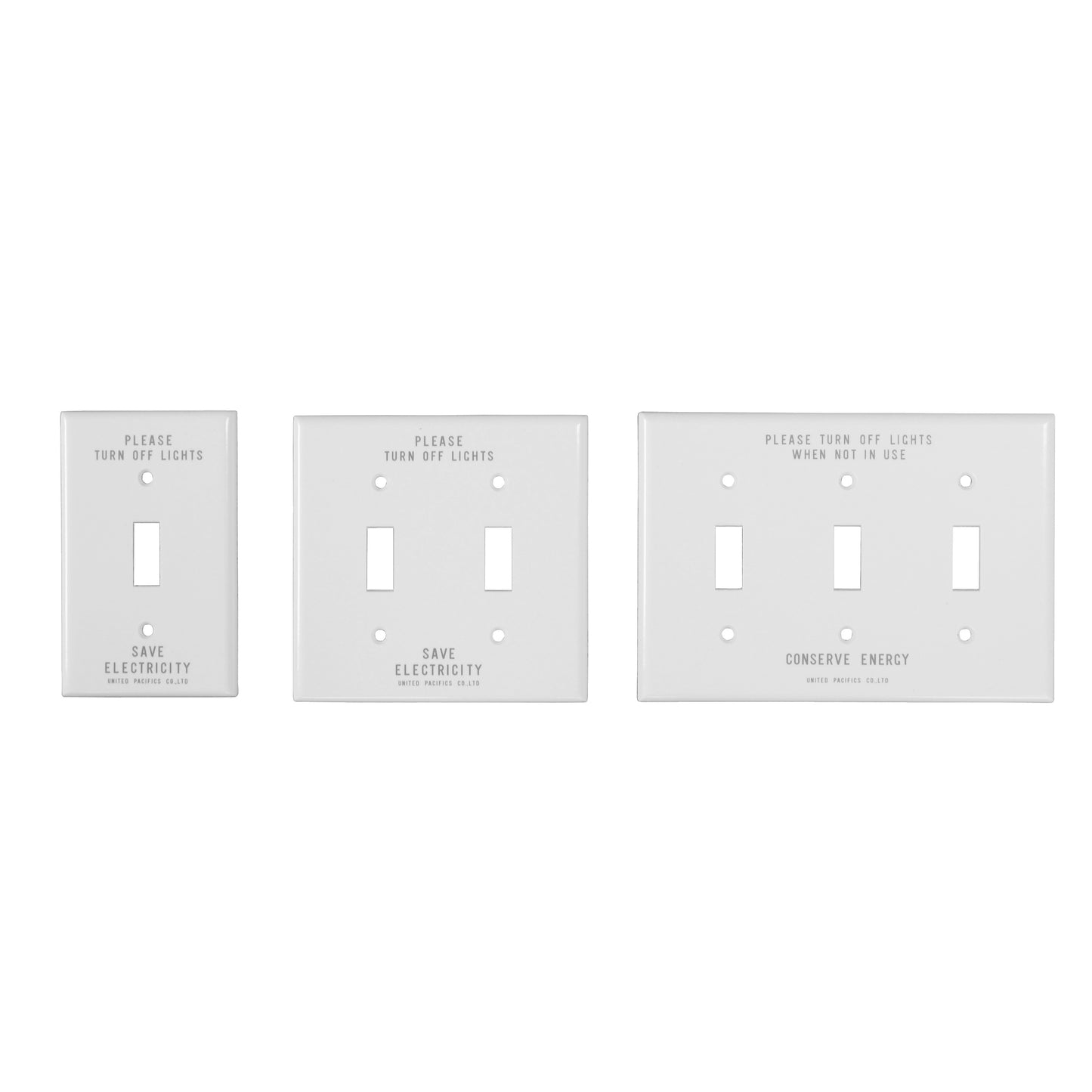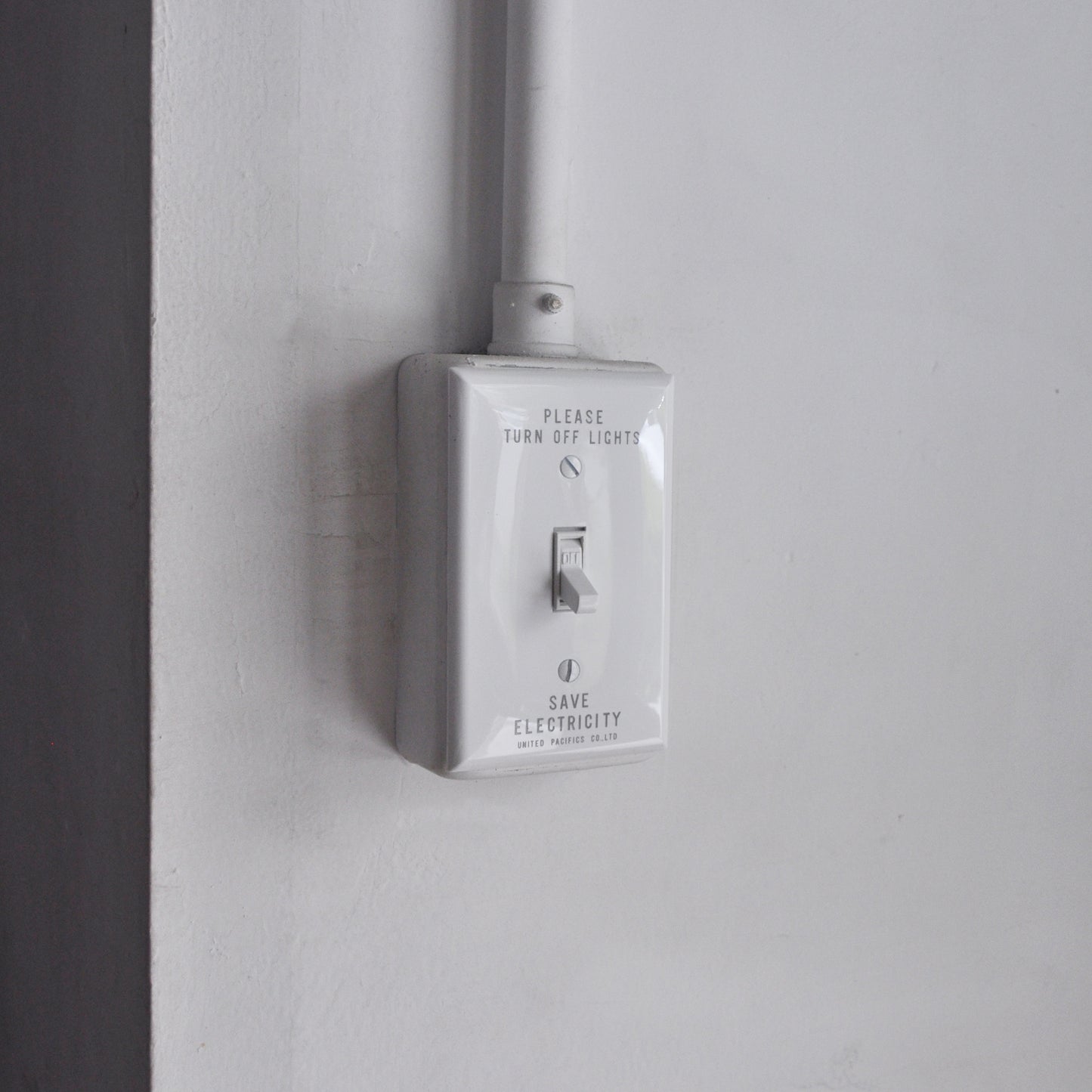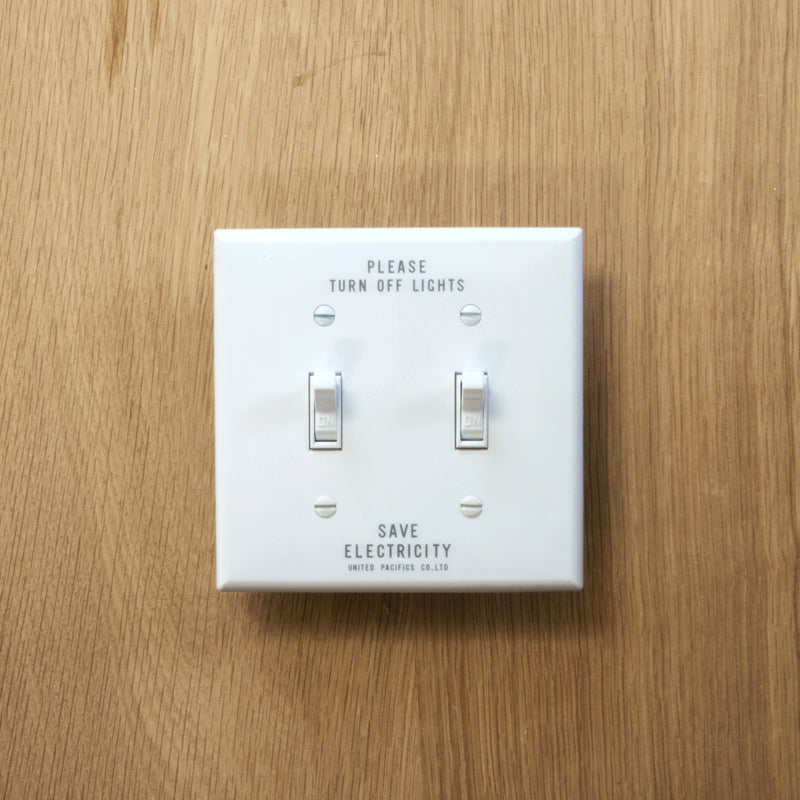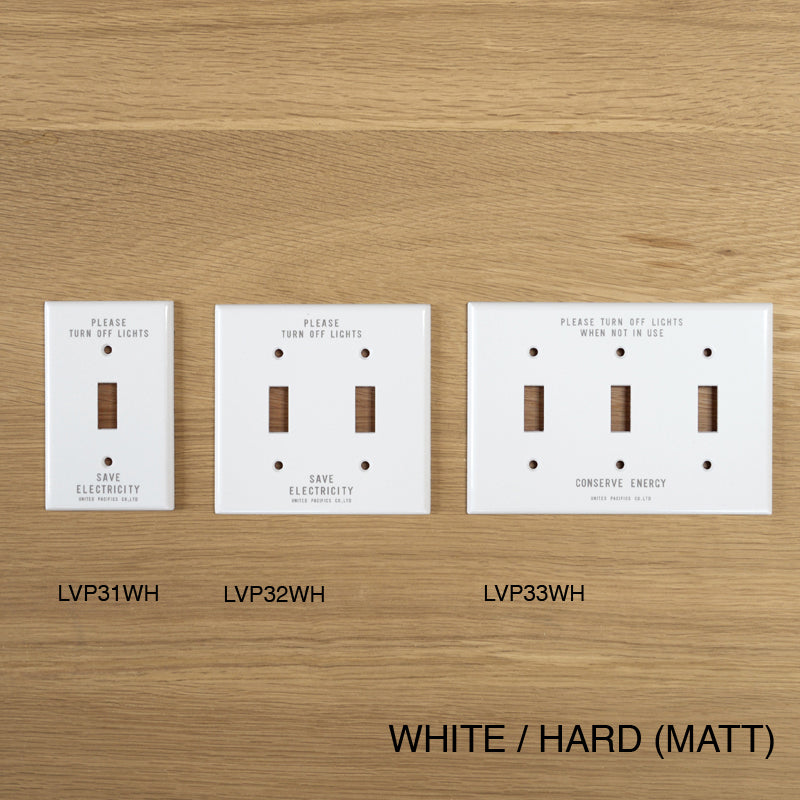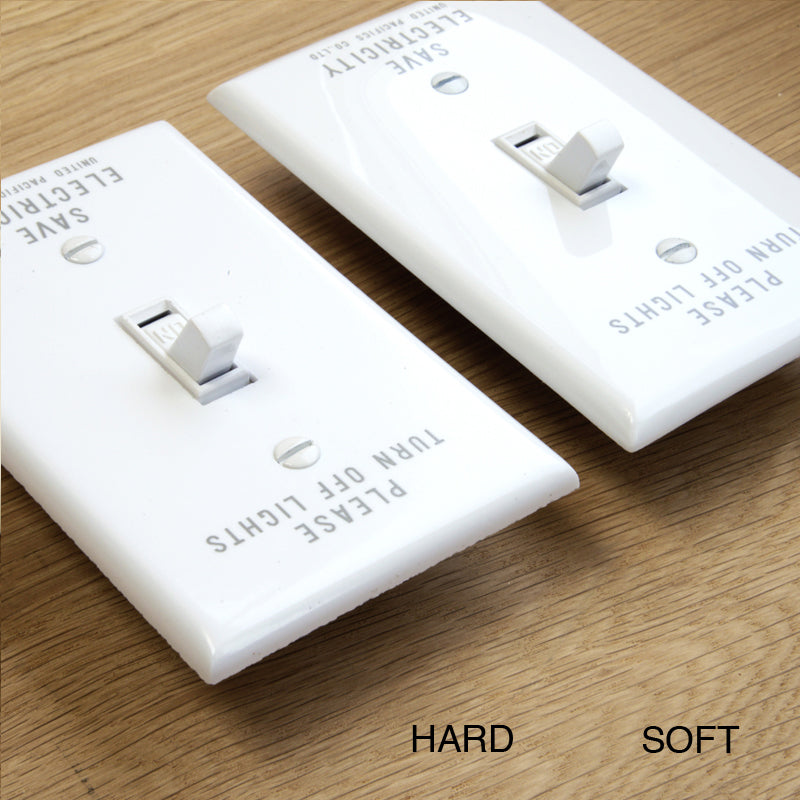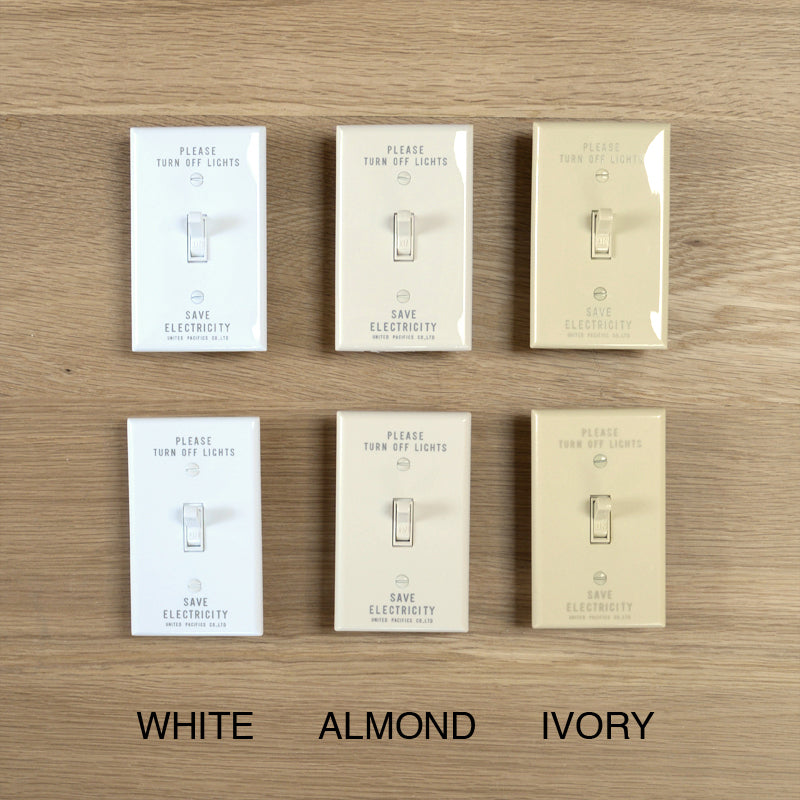 For wholesale distributor
We are the exclusive JIELDE distributor in Asia.
If you are interested in a wholesale program for your shop where locates Asian Region, feel free to reach out.