ITEM CODE: PB601-605
Regular price
¥235,000 JPY
Regular price
Sale price
¥235,000 JPY
Unit price
per
Sale
Inquiry
Delivery may be difficult depending on your country of residence. Delivery and other fees will be charged separately, so please inquire first if you wish to make a purchase.
mail address :
customerservice@pfservice.co.jp
Our latest bed design, featuring a headboard with a detailed oak wood mosaic.
Use of a headboard that is wider than the mattress creates the impression of having replaced an entire section of your wall.
There is also a type that can have a night table added on the left or right.
*This product may take 1 - 3 months to deliver depending on production circumstances. If you have a desired delivery date then please make a prior inquiry to customerservice@pfservice.co.jp.
Single frame size: W1000 L2040 H800 MH440
Single mattress size:W970 L1950


Semi double frame size: W1230 L2040 H800 MH440
Semi double mattress size:W1200 L1950
Double frame size: W1430 L2040 H800 MH440
Double mattress size:W1400 L1950

Queen frame size: W1530 L2040 H800 MH440
Queen mattress size: W1520 L1950

King frame size: W1830 L2040 H800 MH440
King mattress size:W1800 L1950


normal mattress:Thickness 190㎜
hard mattress:Thickness 210㎜

Material:oak
Share
日本語

楢の細かな寄せ木をヘッドボードに使ったベッドです。
マットレスより大きな幅のヘッドボードを組み合わせる事により、部屋の壁一面を張り替えたような印象が作れます。


ヘッドボードは窓枠にかからない低めの高さで、
それに合わせて、マットレスもホテル仕様と同じ厚みの薄めのマットレスを選んでいます。
そのため、お部屋に置いた時にすっきりと見えるようになっています。


マットレスは固さをノーマルとハードの2種類からお選びいただけます。

以前、P.F.S.では、シモンズ社製のホテルユース仕様マットレスを採用しておりましたが、シモンズ社のスプリングなどを製造していた創業71年の老舗スプリングメーカー 協力のもとオリジナルマットレスをつくりました。
極力シンプルにポケットコイルスプリングの特徴を活かした作りになってますので、
ベッドパッド等でお好みの寝心地をカスタマイズできます。
そのままお使いいただいても、従来のものより硬さとしなやかさのバランスが良く、
身体にしっかりフィットする寝心地となっています。表面の生地はシンプルなストライプ柄で、
難燃・防カビ・抗菌性に優れたベルギーメーカー製のファブリックを採用しました。
キルティングの中綿には防ダニ加工を施してあります。


フレームのみでもご提供しておりますが、マットレスを別でご購入いただく場合、こちらのベッドを一般のマットレスと合わせるとヘッドボードの見え方のバランスが変わってきます。ご希望の方はボードを高くするなどセミオーダーをお承り致します。詳細はPACIFIC FURNITURE SERVICE店舗(03-3710-9865)shop@pfservice.co.jpまでお問い合わせください。

底板には湿気抜きの通気孔が開いています。

製作納期について
※こちらの商品はお届けまでに2~4ヶ月ほどお時間を頂きます。
※仕上済み在庫があった場合は在庫より最短で出荷手配いたします。 ※ご希望の納期がございます場合は事前にお問合せ下さい。
メンテナンスについて

この商品はラッカー仕上げの商品です。
ラッカー仕上げは木の質感を残しながらも、塗膜によって表面を保護する仕上げです。
仕上りの風合いをより良く保つために、以下のメンテナンスを推奨いたします。

普段のお掃除:乾拭きでおこなってください。水拭きをされる場合は、硬く絞って水気をしっかりと切った布をお使いいただき、最後に乾拭きで仕上げてください。
日々の汚れ落とし: Orange oilを使用してください。汚れを落とすだけでなく保湿もできます。月に1回程度で十分です。
傷や色あせが出た箇所の軽度の補修: Restore a finish(カラー:GOLDEN OAK)を使用してください。
表面の保護、ツヤ出し(2、3ヶ月に一度):Antique wax(カラー:LIGHT)を使用してください。WAXをかける事により、表面に艶を与え、塗膜の保護ができます。
その他:アルコール除菌をすると、表面の保護をしているワックスが取れて白化してしまいます。ノンアルコールの除菌用品をご使用ください。

weight : g
Color:
Material: oak
For wholesale distributor
View full details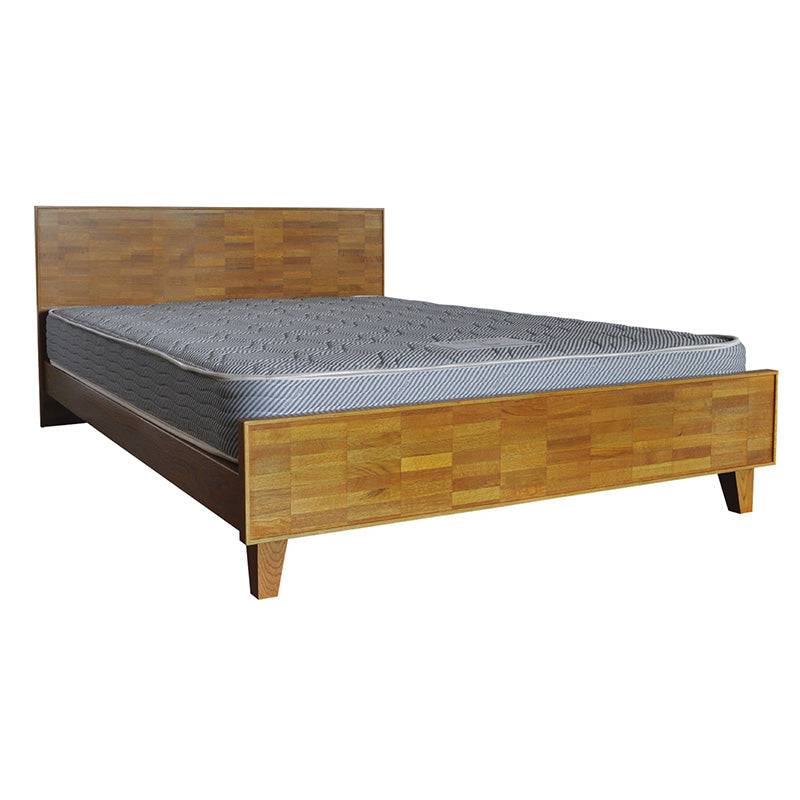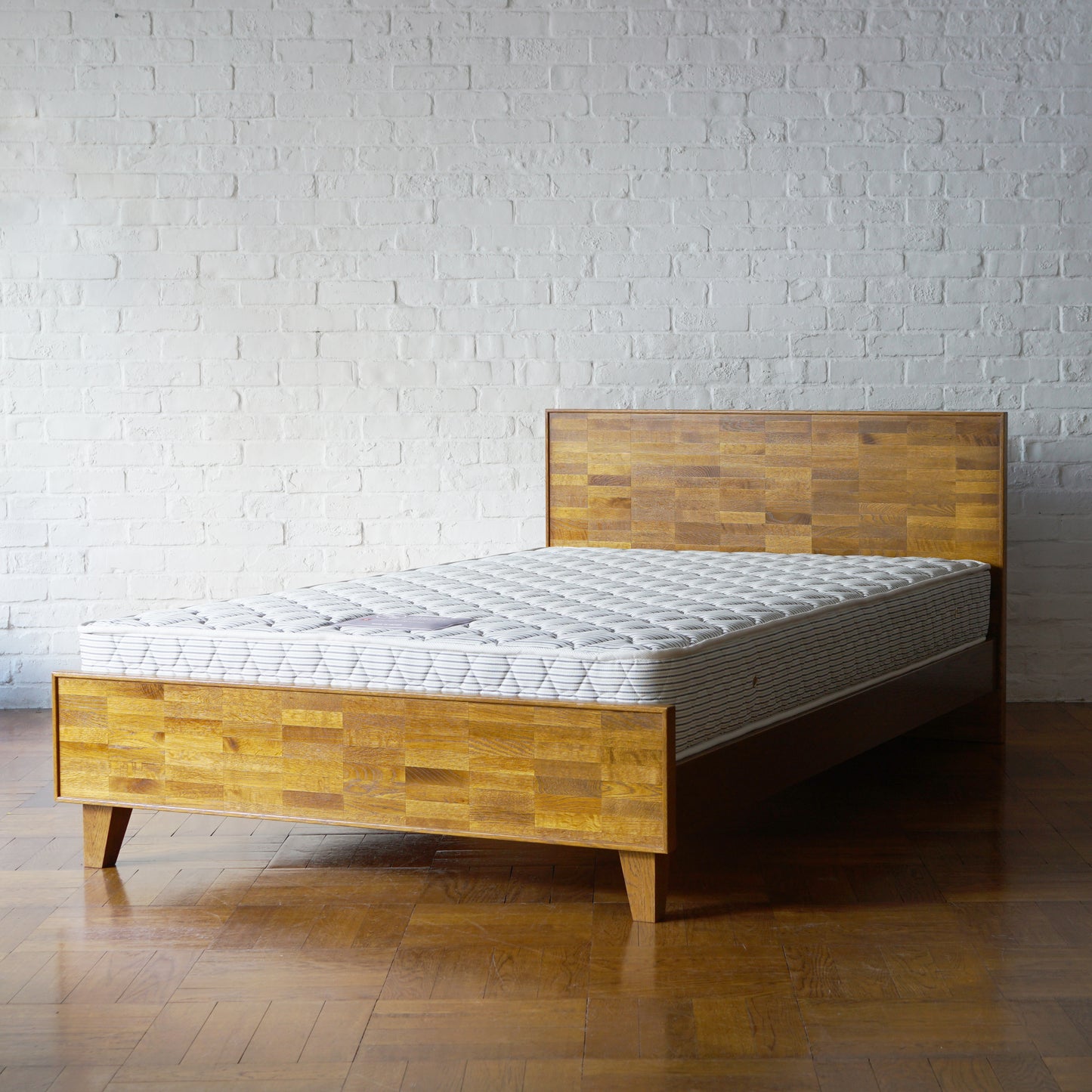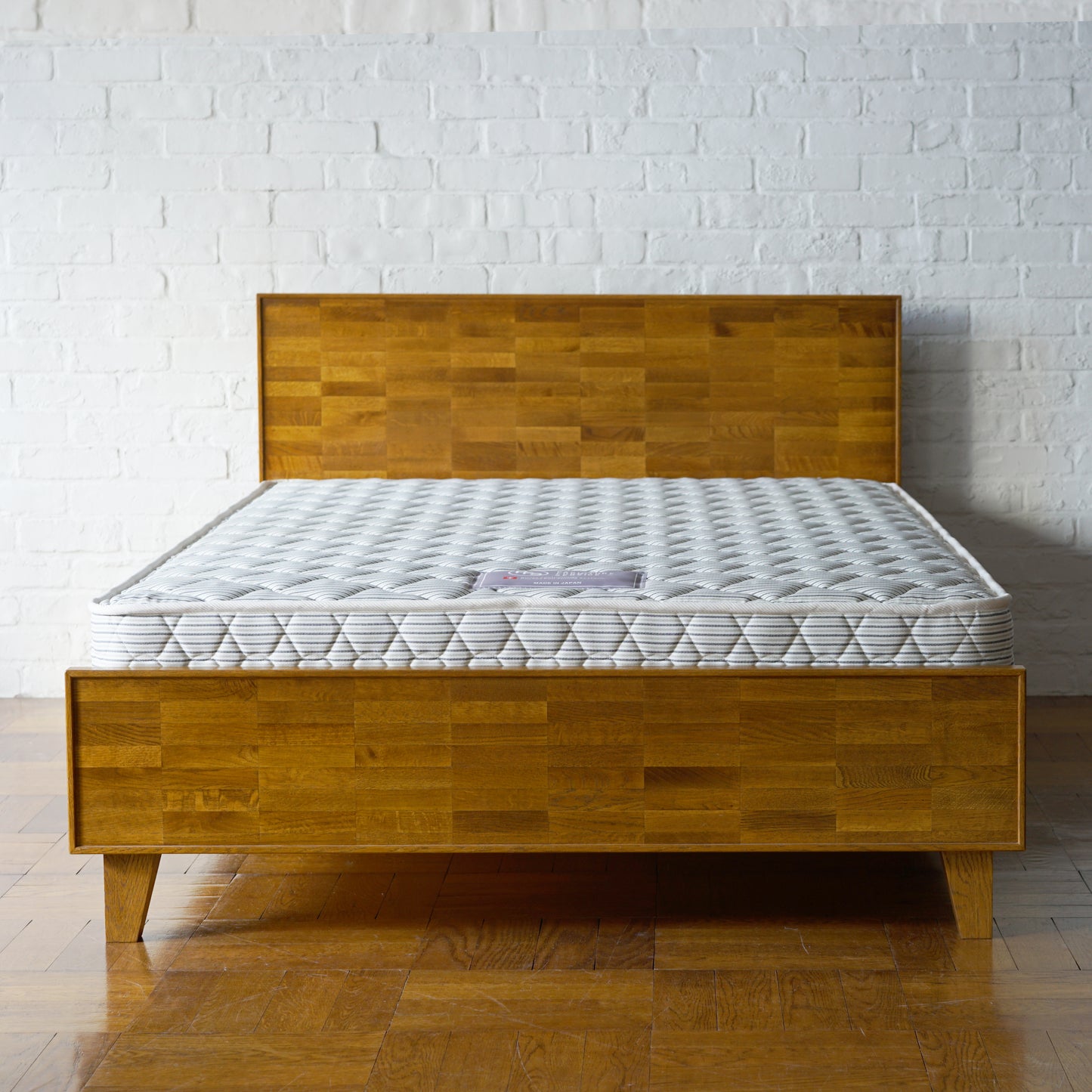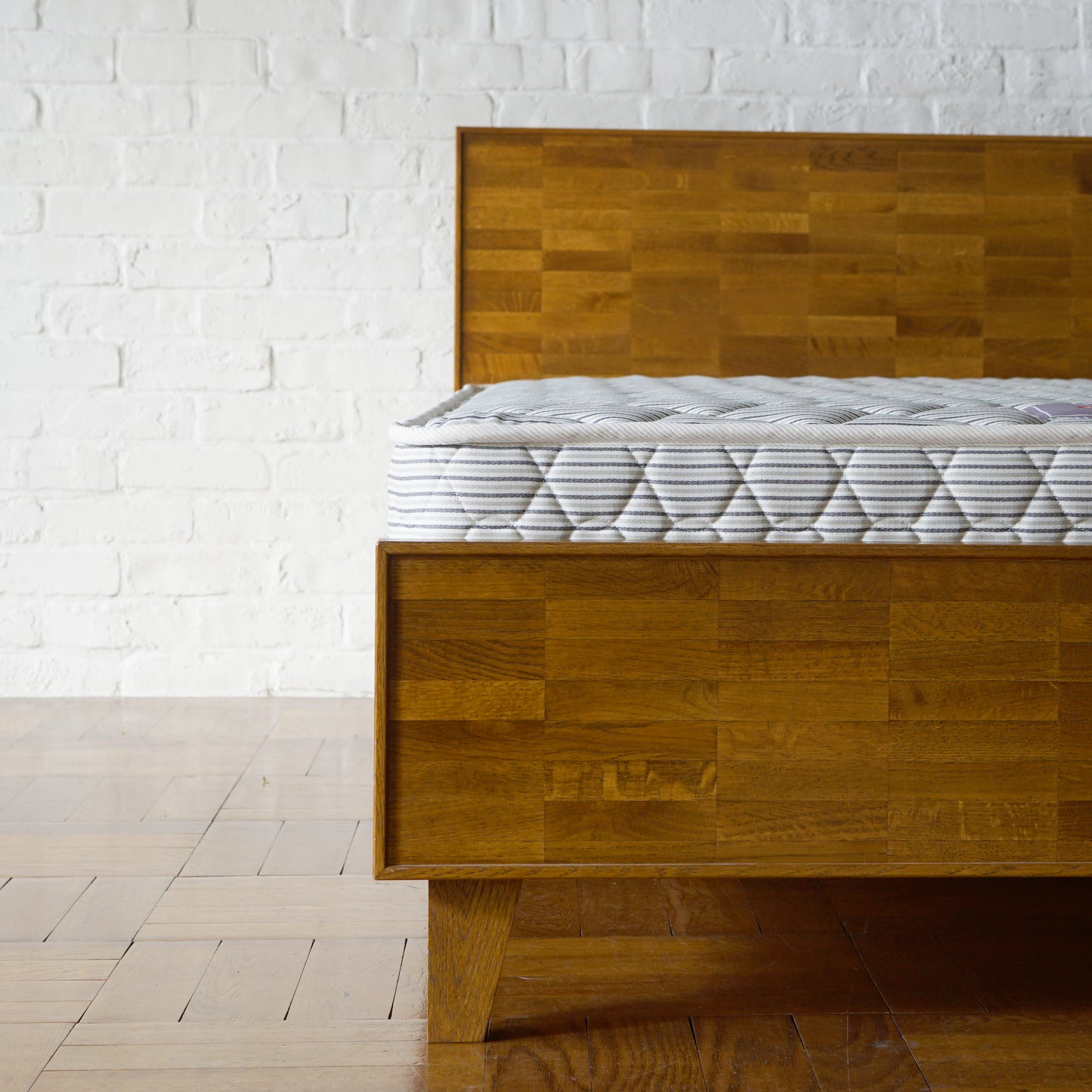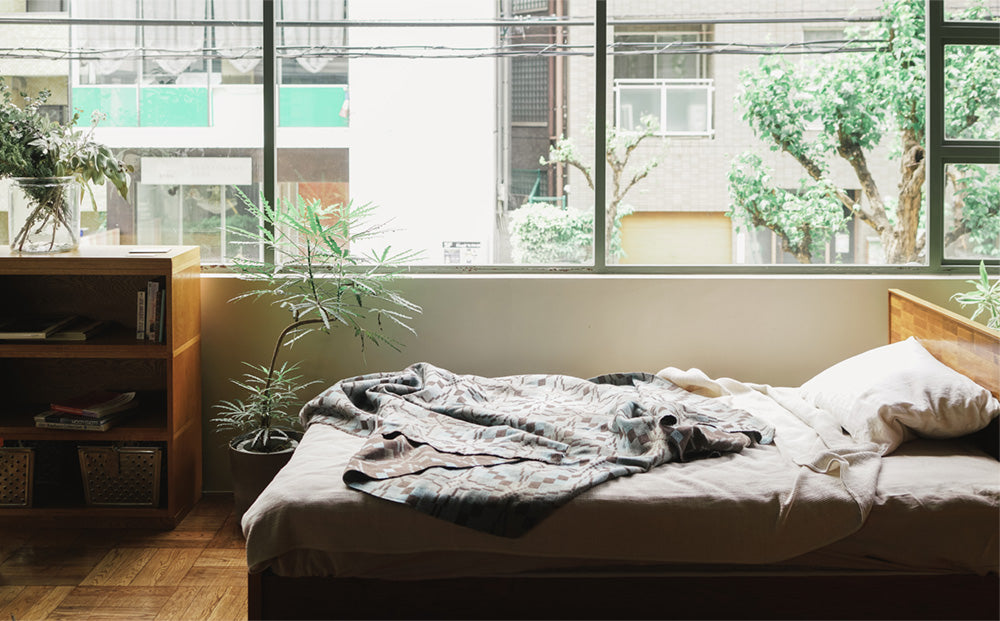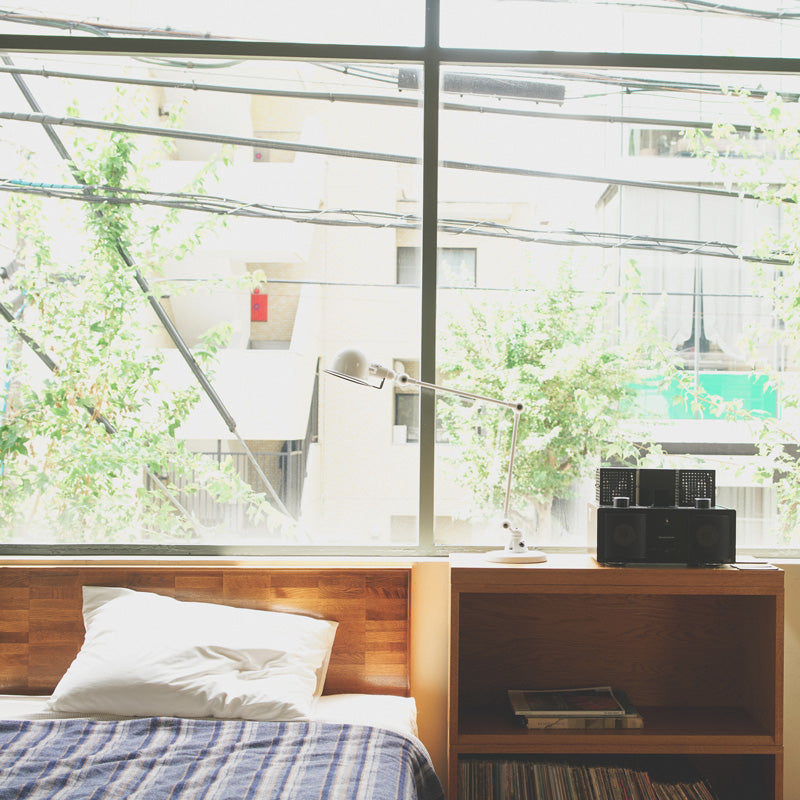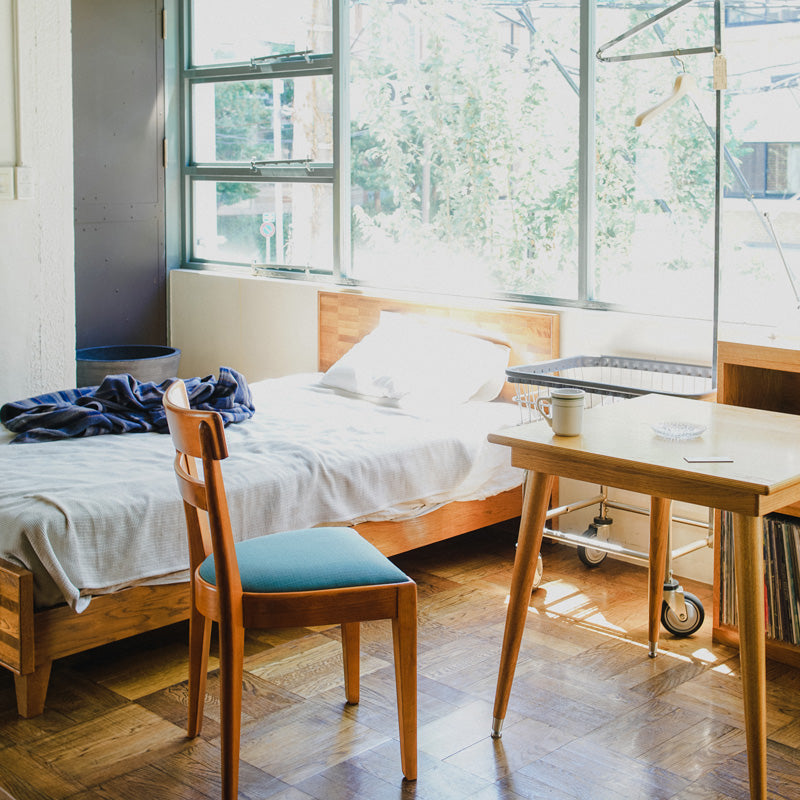 For wholesale distributor
We are the exclusive JIELDE distributor in Asia.
If you are interested in a wholesale program for your shop where locates Asian Region, feel free to reach out.