ITEM CODE: ID101-102
Regular price
¥170,000 JPY
Regular price
Sale price
¥170,000 JPY
Unit price
per
Sale
Inquiry
Delivery may be difficult depending on your country of residence. Delivery and other fees will be charged separately, so please inquire first if you wish to make a purchase.
mail address :
customerservice@pfservice.co.jp
Everyone knows what a "table" should look like; why, then, can it be so hard to find one?
This piece was created from the desire for exactly that - a table, with no unnecessary added value or design flourishes, and no deeper philosophy behind its creation.
It is the embodiment of the ideal "don't buy cool furniture, live a cool life. "

Although the design isn't what anyone would call eye catching, the life led by someone making good use of this table will surely be a sight to see.
Every step in its creation, right down to the finish, is performed by hand, using traditional methods.
Its use in a variety of ways by successive generations is sure to transform it into a true, one-of-a-kind masterpiece.

The L size seats four comfortably, while the S size is perfectly suited for someone living alone. There's a small drawer on the side that can hold cutlery when used as a dining table and or small items when used as a desk.
*This product may take 1 - 3 months to deliver depending on productioncircumstances. If you have a desired delivery date then please make a prior inquiry to customerservice@pfservice.co.jp.
Share
日本語

誰でも知っているけど、いざ探すとどこにも売っていない。
余計な付加価値やデザインを加えず、
何の変哲もない当たり前のテーブルが欲しい、と考えて作りました。
"かっこいい家具よりかっこいい生活"を具現化した商品です。

決して目を引くデザインではありませんが、
使いこなしている人の生活はきっと素敵です。
塗装も含め全行程が伝統的な手作業で一つ一つ作られています。
世代ごとに様々に使い込まれる事で、
この世に一台のMASTER PIECEとなるでしょう。

Lサイズは4人掛けテーブルとして、Sサイズは一人暮らしにちょうどいいサイズです。側面に小さな引出しがついており、ダイニングで使用する際にはカトラリーを、デスクに使用する際には小物などを入れておくことができます。

※こちらの商品は組み固めなので、脚が外れません。搬入経路にご注意ください。

製作納期について
※こちらの商品はお届けまでに2~4ヶ月ほどお時間を頂く場合がございます。
※仕上済み在庫があった場合は在庫より最短で出荷手配いたします。 ※ご希望の納期がございます場合は事前にお問合せ下さい。

CUSTOM ORDER
天板サイズの変更などカスタムオーダーをお受付しております。搬入が難しい場合に、ノックダウン式の脚へカスタムすることも可能です。(追加料金あり) 詳細はPACIFIC FURNITURE SERVICE店舗(03-3710-9865)shop@pfservice.co.jpまでお問い合わせください。

メンテナンスについて

この商品はニス・ワックス仕上げの商品です。
ニス仕上げは木の質感を残した伝統的な塗装方法です。
ニスは塗膜が薄く、アルコールに反応するため、仕上げにBRIWAXを塗った状態でお出ししています。
仕上りの風合いをより良く保つために、以下のメンテナンスを推奨いたします。

普段のお掃除:乾拭きでおこなってください。水拭きをされる場合は、硬く絞って水気をしっかりと切った布をお使いいただき、最後に乾拭きで仕上げてください。
日々の汚れ落とし: Orange oilを使用してください。汚れを落とすだけでなく保湿もできます。月に1回程度で十分です。
傷や色あせが出た箇所の軽度の補修: Restore a finish(カラー:GOLDEN OAK)を使用してください。
表面の保護、ツヤ出し(2、3ヶ月に一度):BRIWAX(カラー:MEDIUM)を使用してください。WAXをかける事により、表面に艶を与え、塗膜の保護ができます。
その他:熱いカップや鍋、水滴がついたコップ等を置かれる場合は、輪染み防止として、コースターや鍋敷き等をご使用ください。また、アルコール除菌をするとニスが取れてしまいます。ノンアルコールの除菌用品をご使用ください。

weight : g
Color:
Material: Solid Oak
SIZE:

(S) W1050 D600 H725
(L) W1300 D730 H725
For wholesale distributor
View full details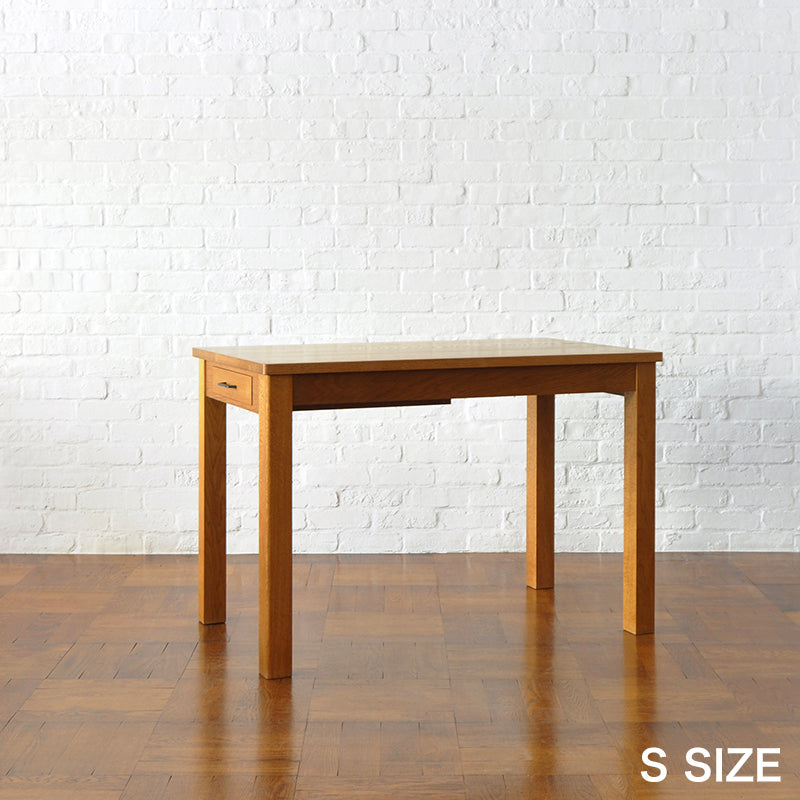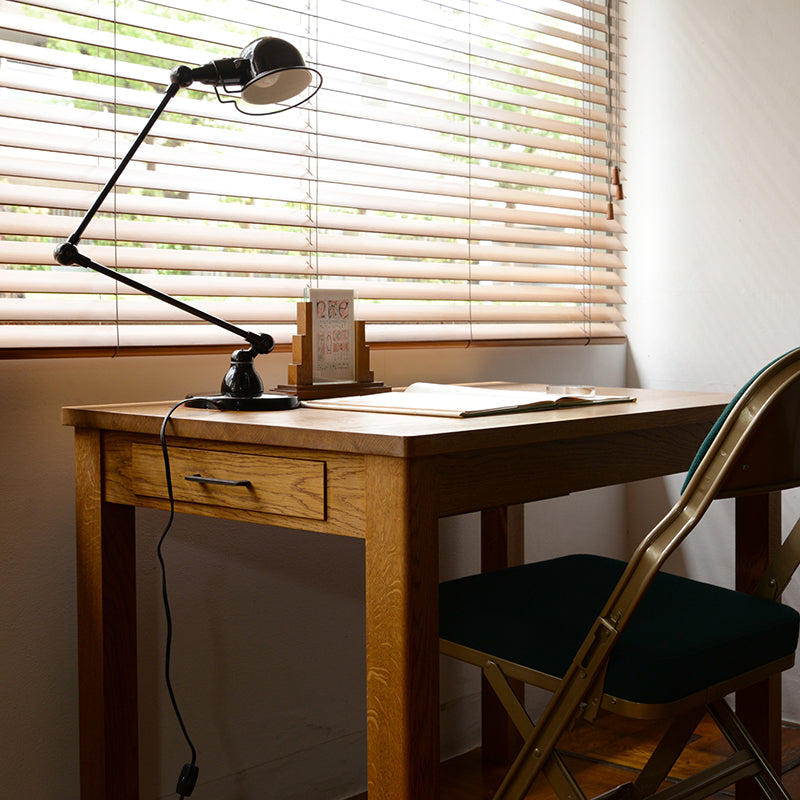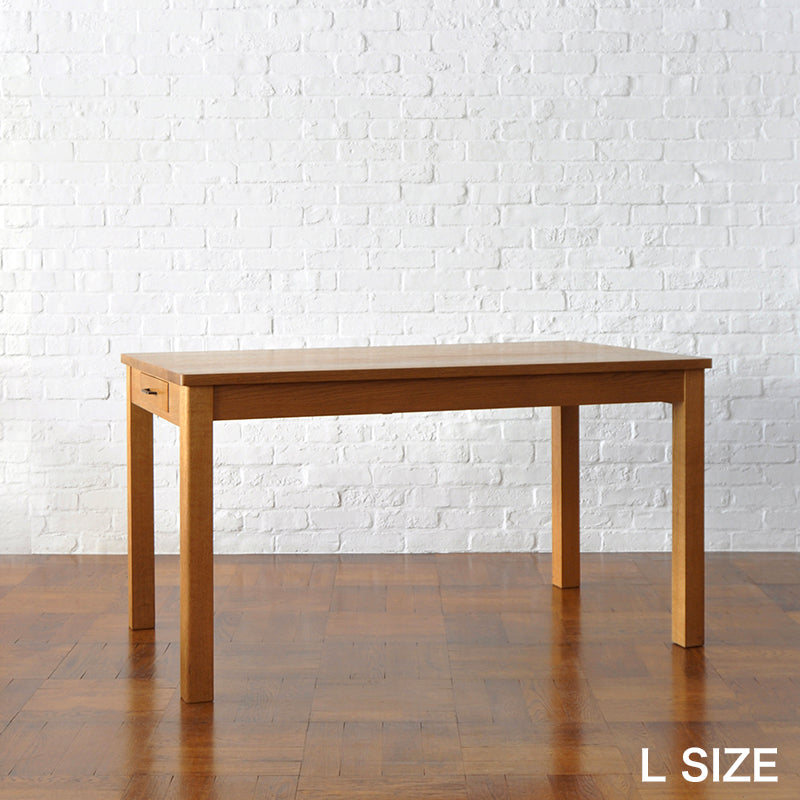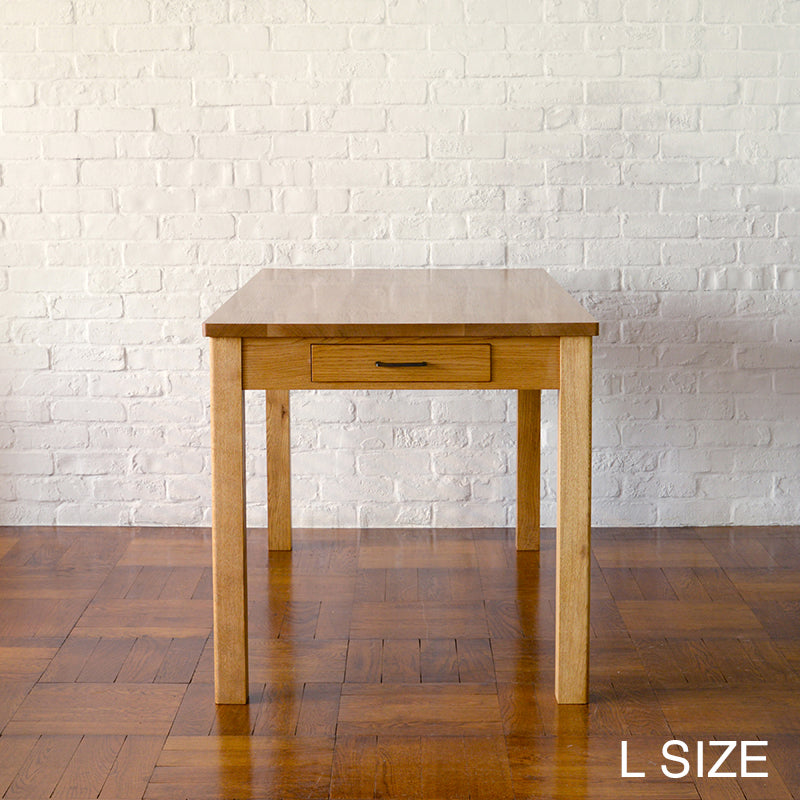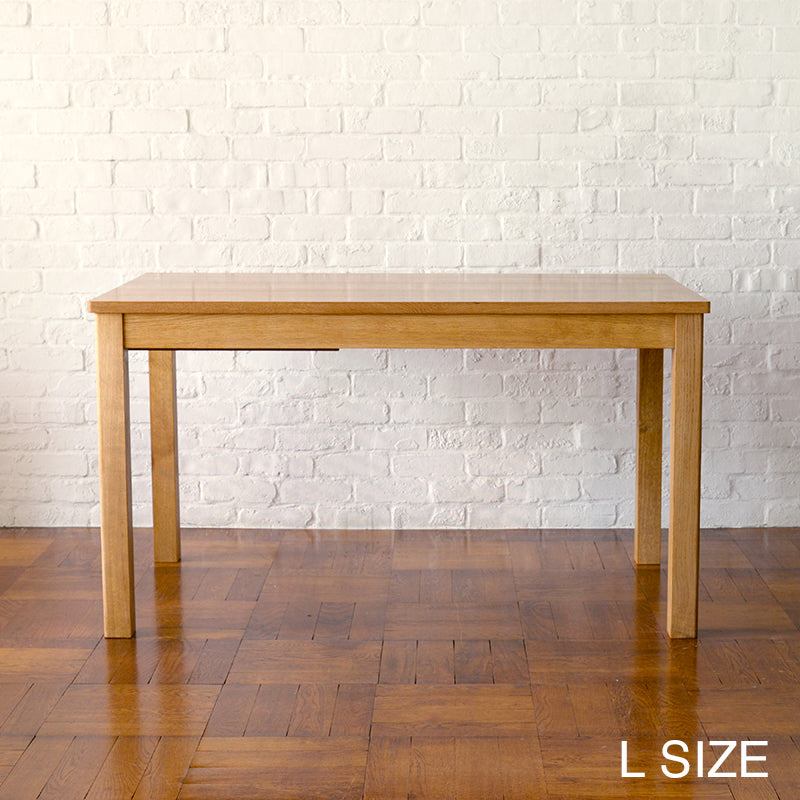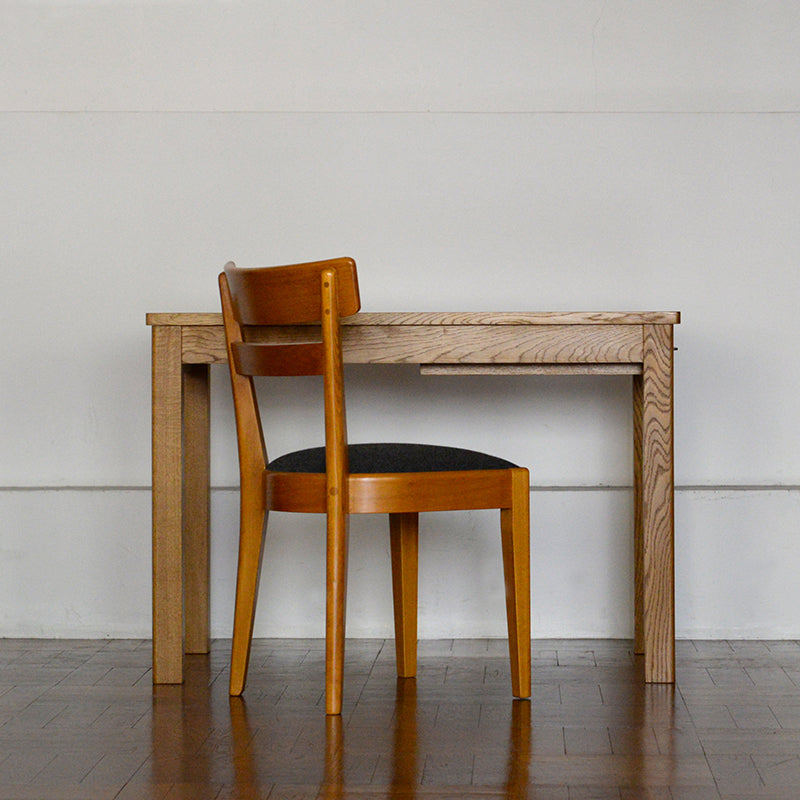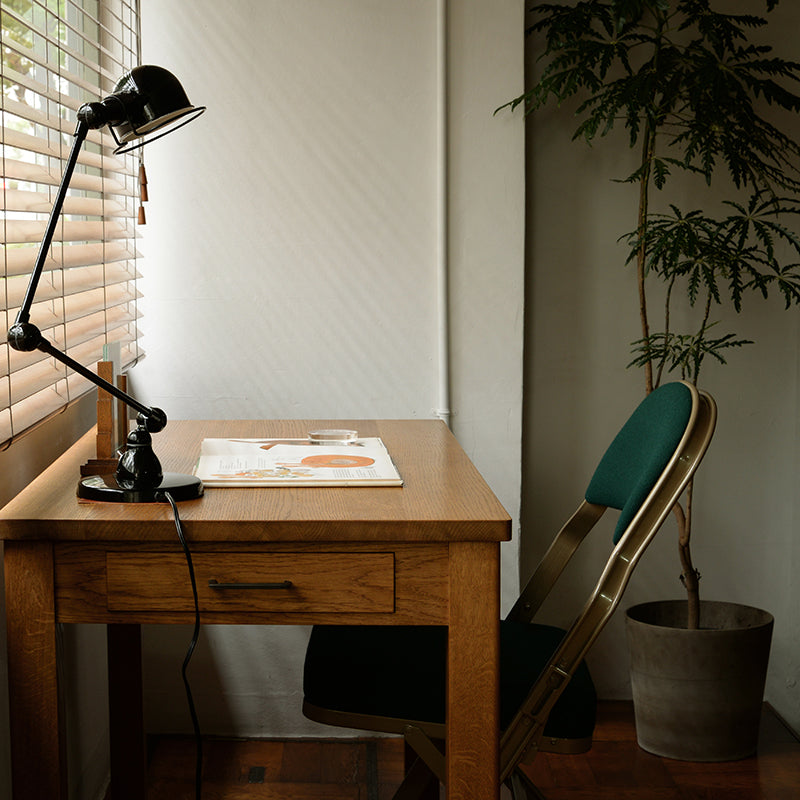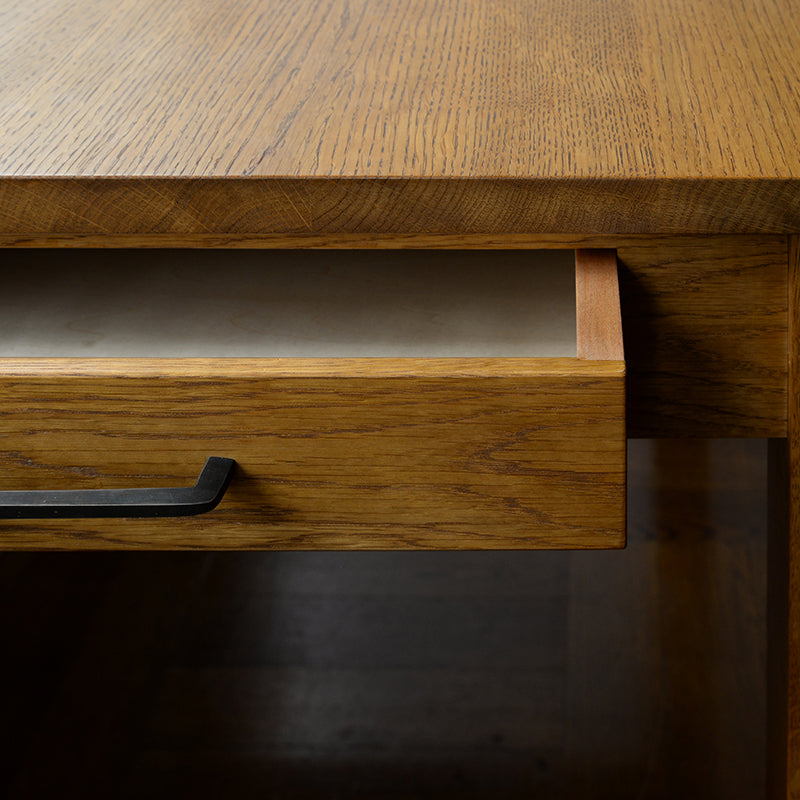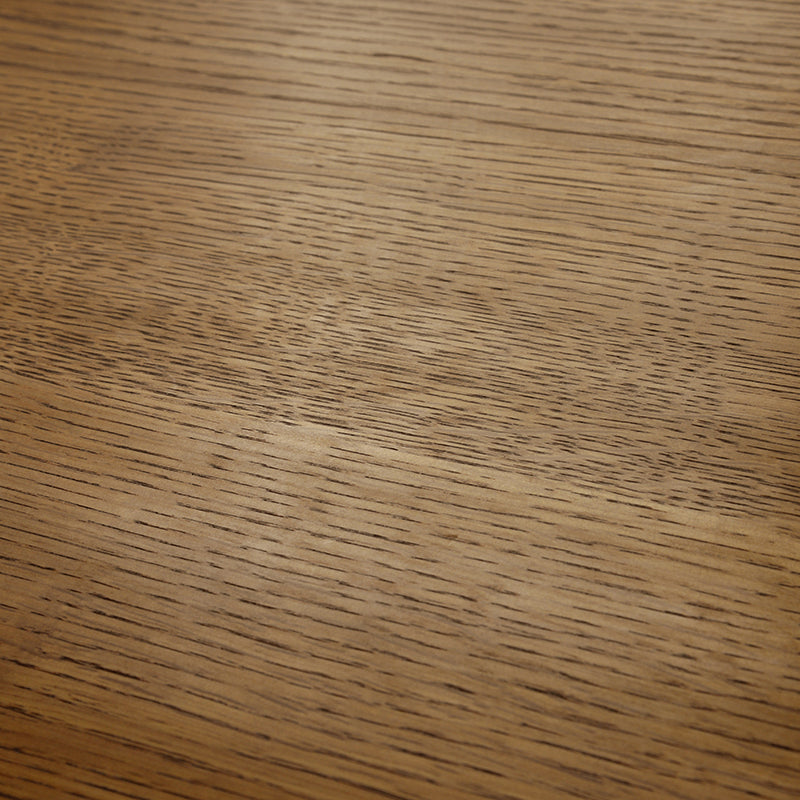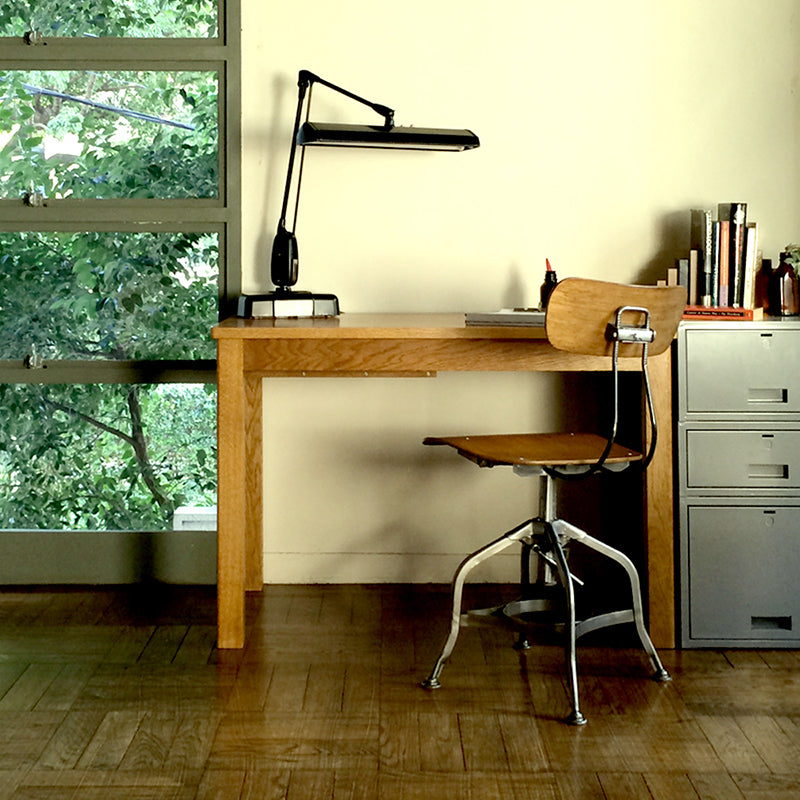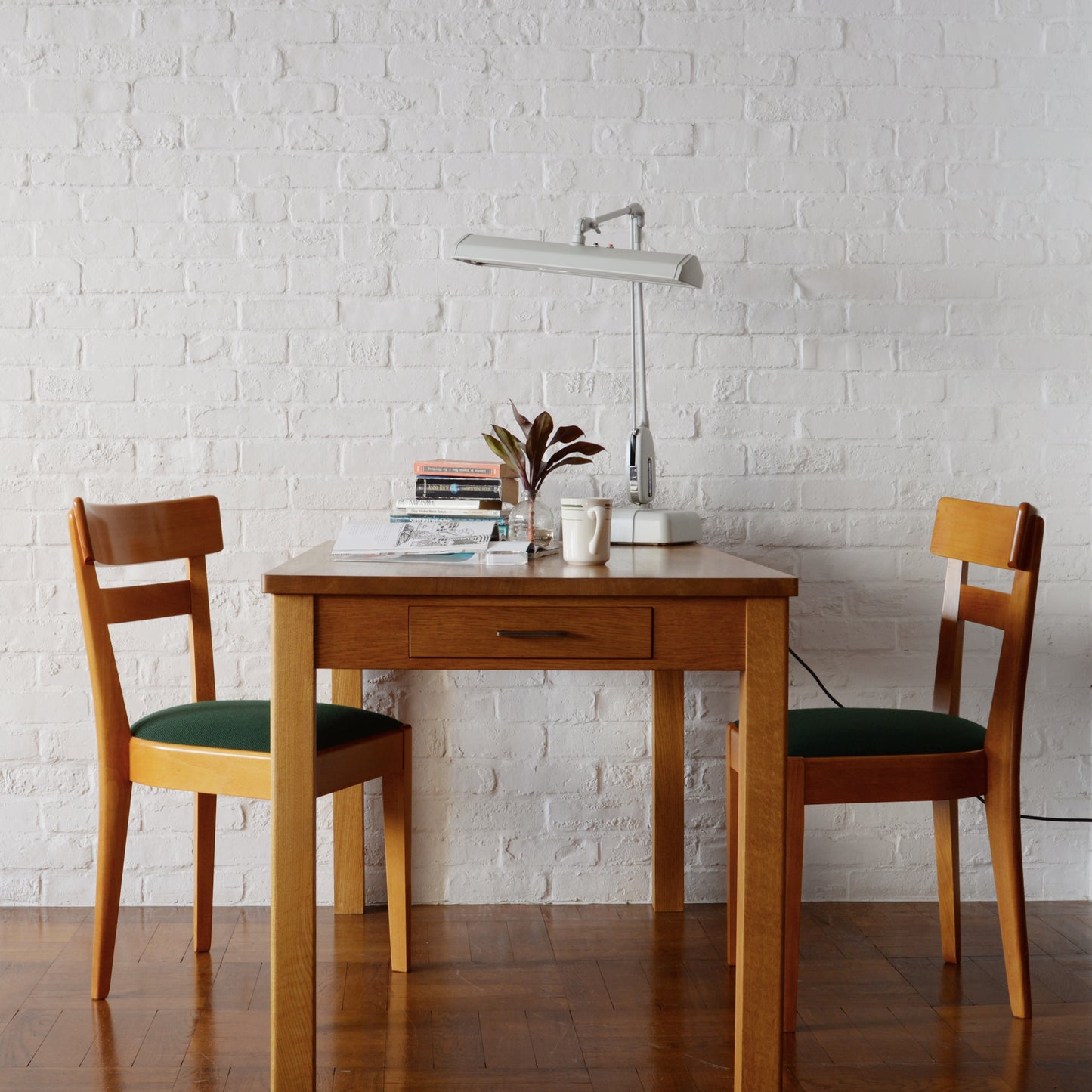 For wholesale distributor
We are the exclusive JIELDE distributor in Asia.
If you are interested in a wholesale program for your shop where locates Asian Region, feel free to reach out.